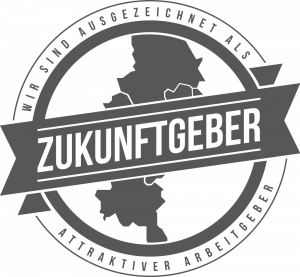 We are an "Attractive Employer"!

In recent months, our managers have taken part in the workshop series "Attractive Employer", initiated by the Allianz für die Region GmbH. As part of these workshop, measures were developed and established to better one's position on the job market in times of a shortage of skilled workers and to create pleasant working conditions or to further improve existing ones. Many points such as flexibility, work-life balance, independence and development opportunities have long been established in our company and we are constantly working to increase the satisfaction and motivation of our workforce.
Since May 31st, 2018, we have also been certified as an "Attractive Employer".
Further information can be found here.
Detailed insights.
In our team you accompany the projects from the offer phase to the project completion and project review. You are involved in all phases and therefore you are not only close to the entire operational processes but also to our customers and the importance that our work has for them.
We build a bridge.
To ensure our quality, clear structures are of great importance for our work. Responsibilities must be clearly assigned and guidelines for many processes are already defined.
Anyone who thinks of rigid business processes is mistaken! We create the balancing act of fixed processes to a philosophy of shaping and working together.
How do we succeed?
We involve our employees in the creation and definition of our structures and processes. Our communication structure creates transparency in all areas. This ranges from regular information sessions to feedback meetings, organized by the employees, and to the important 'on the hop' discussions.
In fact: We rely on communication and information!
That's C&S.
Founded in 1995, the C&S group was one of the pioneers in the field of digital communication in the automotive industry. As a test house from the very beginning, today we are
recognized as an independent test house for communication protocols
competent partner for the analysis and conception of networked systems and their testability.
Find out more here.
Our region.

Our jobs and offers.
If you are interested in one of our jobs and offers or if you would like to get an idea of C&S, please contact us!
Silver Sponsor at the  Automotive Ethernet Congress, February 12 -13, 2020, in Munich
After around 1000 attendees, speakers and exhibitors informed themselves about the progress of Ethernet in vehicles, the
Read More
Load More News