We offer:
Ford ECU Tests.
Since September 2013, the C&S group has been confirmed by Ford as an independent test and validation service provider (ITV provider) for multiplex and diagnostic functionality ECUs.
The Background: Before an ECU may be used in one of Ford's vehicles, they must have first been tested by an independent body. For this, Ford has defined its own test method. To carry out these tests using this test method, Ford has selected test houses, which have successfully submitted an extensive qualification process. In turn, an ECU is only recognized by Ford as tested when it has successfully completed the testing process by a qualified ITV provider using these methods.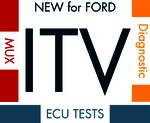 During the qualification process, we have shown that we have the necessary skills and the required experience. Therefore we have been able to extend our existing portfolio.
We test ECUs for compliance with the requirements specified by Ford ECUs and their multiplex and diagnostic functionality.
We analyse and interpret the test data and test results.
We deliver a meaningful result with a comprehensive test report and a separate summary confirmation of a positive test result.
If you want to test your ECU for Ford, please do not hesitate to contact us. We will discuss with you the kind and extent of the tests as well as the course of the test process and are available for any questions you may have. Our contact details can be found under Contact.
Do you want to test with us?
Then please read the information under Best Practice, to find out what the benefits are and what you can expect from us!
Defying crises with chip testing
A new article about our company with a summary of our history and our fields of activity was published on 03.05.2022 in
Read More
Load More News